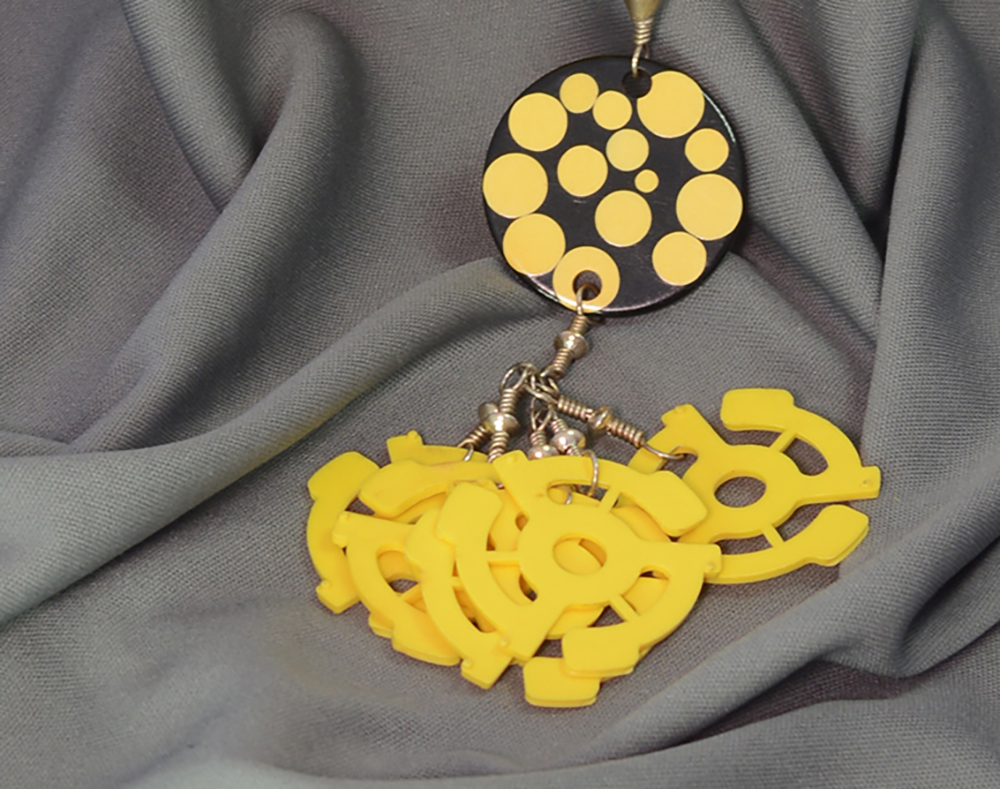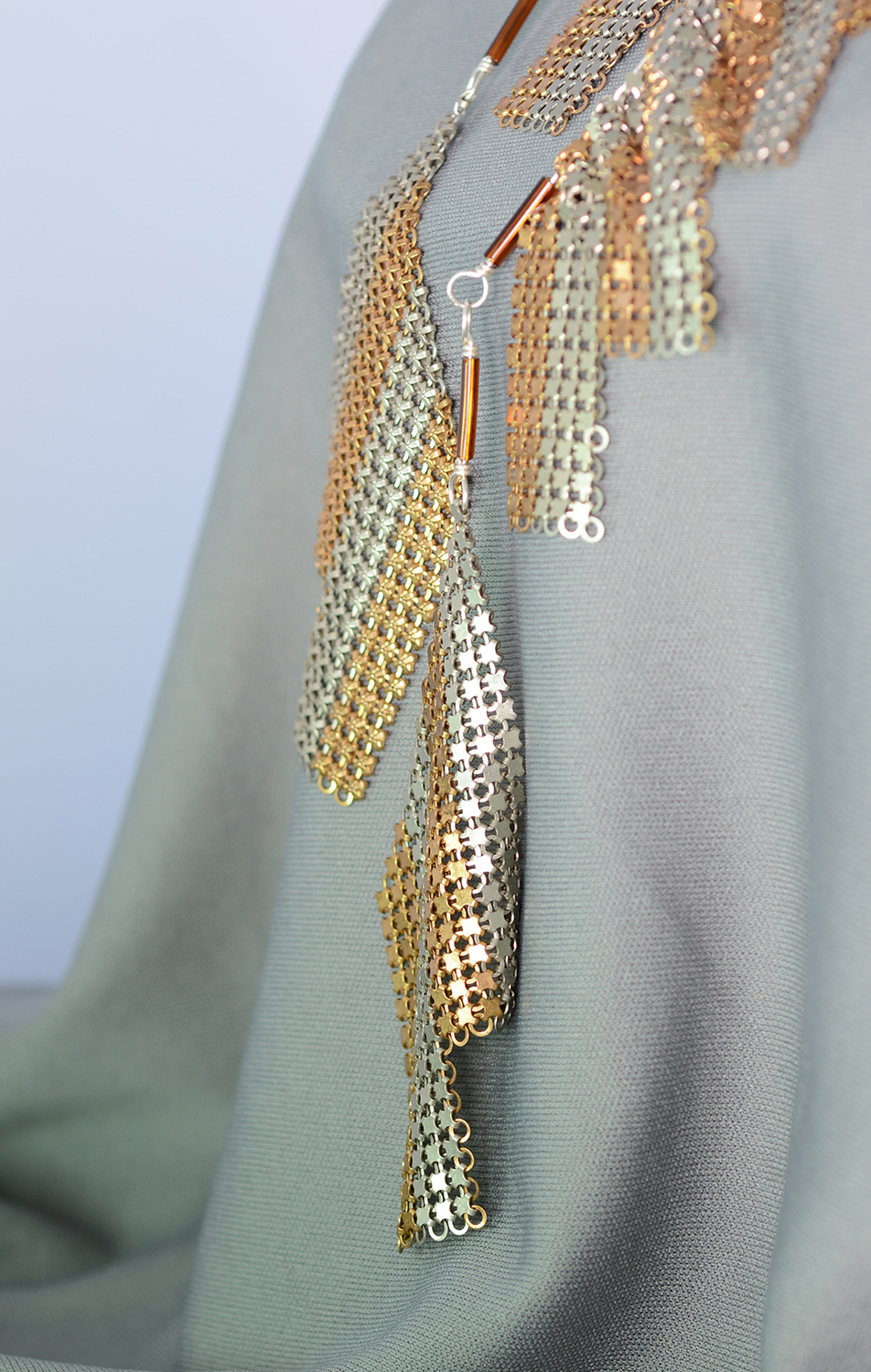 About Lost & Found Jewelry
I've been a flea market junkie since I got my drivers license in high school. I've had dozens of collections; all personal, most not worth much money, but gathered and cherished because they spoke to just me, my eye, and heart.
I love the act of looking and touching old, odd objects and would rather have fifty dollars in my pocket and a cow field of dealers in front of me than a thousand dollars and an afternoon on Madison Avenue.
Over time I wanted to do more than just look at my treasures. I wanted to wear them. I love giving these forgotten trinkets new life and it's especially fun when someone leans over and fingers a necklace, asking, "What is this?" or better yet says, "I know what those are. I love those!"
Most of these pieces are made with old finds. Some are just contemporary decorative objects seen in a new way and given a new lease on life. You never know what you'll find when you go out and about and I love to (as I like to say) poke around.
Most are one-of-a kind, made to order or limited editions. Prices upon request.
Fobs
These are sterling silver fobs, found in London, back when the London fleas had countless shoeboxes filled to the brims with bits and pieces of sterling silver everything: silverware, costume jewelry, letter openers, bottle stoppers, chains, frames, and desk accessories.
Fobs are charms and jewelry for men. They were often attached to pocket watch chains when pocket watches were in style. Many are Victorian; some commemorated a winning sports event or milestone like a graduation; some were engraved; most were ornate.
First I bought just one. Then another. Then I began looking in earnest. One day I came back with over twenty and declared it a "Fobulous Day". These are on a black silk cord and can be draped and knotted several different ways.
Fobs
They have a beautiful, handled, warm and soft patina.
Brass Paperclips
Paperclips are endlessly fascinating. What are they but twisted wire, which is what most jewelers produce most of the time? You think you've seen them all but designers and manufacturers are always creating variations on the theme. They exist one way as you first see them, and another when paper is slipped between the tense wires. They're very modest and just perfectly functional. And they're all new when gathered together in a necklace. These are brass and on a brown silk cord.
Brass Paperclips
Each clip is attached by hand and small black beads are onyx.
Take it Apart Puzzle
You know this puzzle. A handful of twisted stainless steel loops and curves, all connected and impossible to separate…. Until. Until they come apart as if by magic and you're holding seven or eight individual pieces. I've had a seven year old shout, "I know those!" when he saw me wearing this.
Take it Apart Puzzle
They also cast beautiful shadows.
Black Paperclips
Paperclips again and one more example of how varied and beautiful a common little object can become.
Black Paperclips
We all wear black so much it's sometimes hard to find a white shirt to properly show off this necklace. I tend to wear this piece more often in the spring and summer when I find exactly the right white V-neck or crew neck shirt.
Mahjong Game Pieces
I've had these for years. I think they're ivory counting or score keeping pieces from Mahjong games. I'd never buy ivory today but these are old and it feels good to give them a new life. I cleaned them and oiled them and drilled the holes only where there were already red or black indented dots. It's a lot of necklace and if I were going to make it again I'd use fewer components.
Mahjong Game Pieces
The connecting wires are all made by hand and the loop is larger than I usually form. It's hard to keep the loop circle true and symmetrical when it's that large but it works here and relates to the proportions of the piece, allowing them to move fluidly and sift through your fingers.
45 RPM
If you recognize these immediately you're probably over fifty-five years old and/or have an older sibling. Once upon a time there were record players that played albums that had a small hole in the center. Single songs were recorded on discs that had a large hole in the center. These little plastic adapters were inserted into the hole so they could be played on album turntables. Who knew?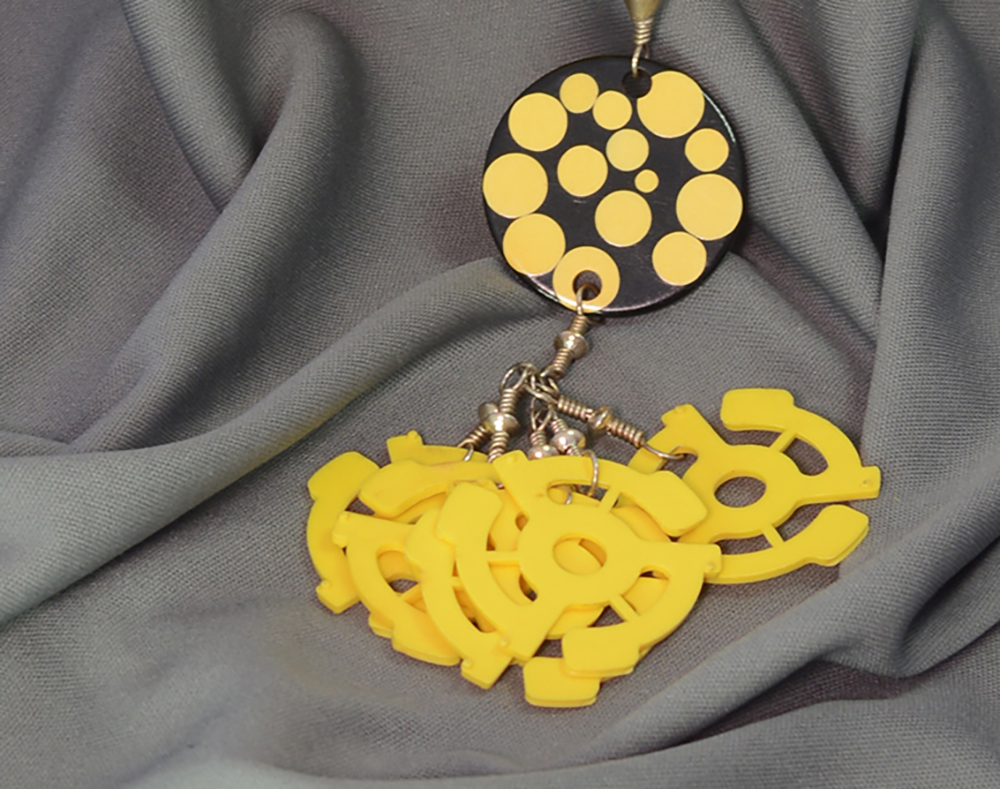 45 RPM
The Bakelite discs can still be found in button boxes, vintage dress pockets, notion stores selling off stock, and on Ebay.
Deco Drape Trim
I found an old spool of mesh trim and left it out on my studio table for months. It was yards and yards of these tiny brass and nickel discs held together with even smaller flat, round links. I couldn't do a thing with it as long ribbon or yardage but, when I took my wire snips to it, I was suddenly holding beautiful pieces of fluid, intricate metal scraps. The movement of the small scraps in contrast to the natural curve of the wire creates a very unique sculptural and wearable necklace.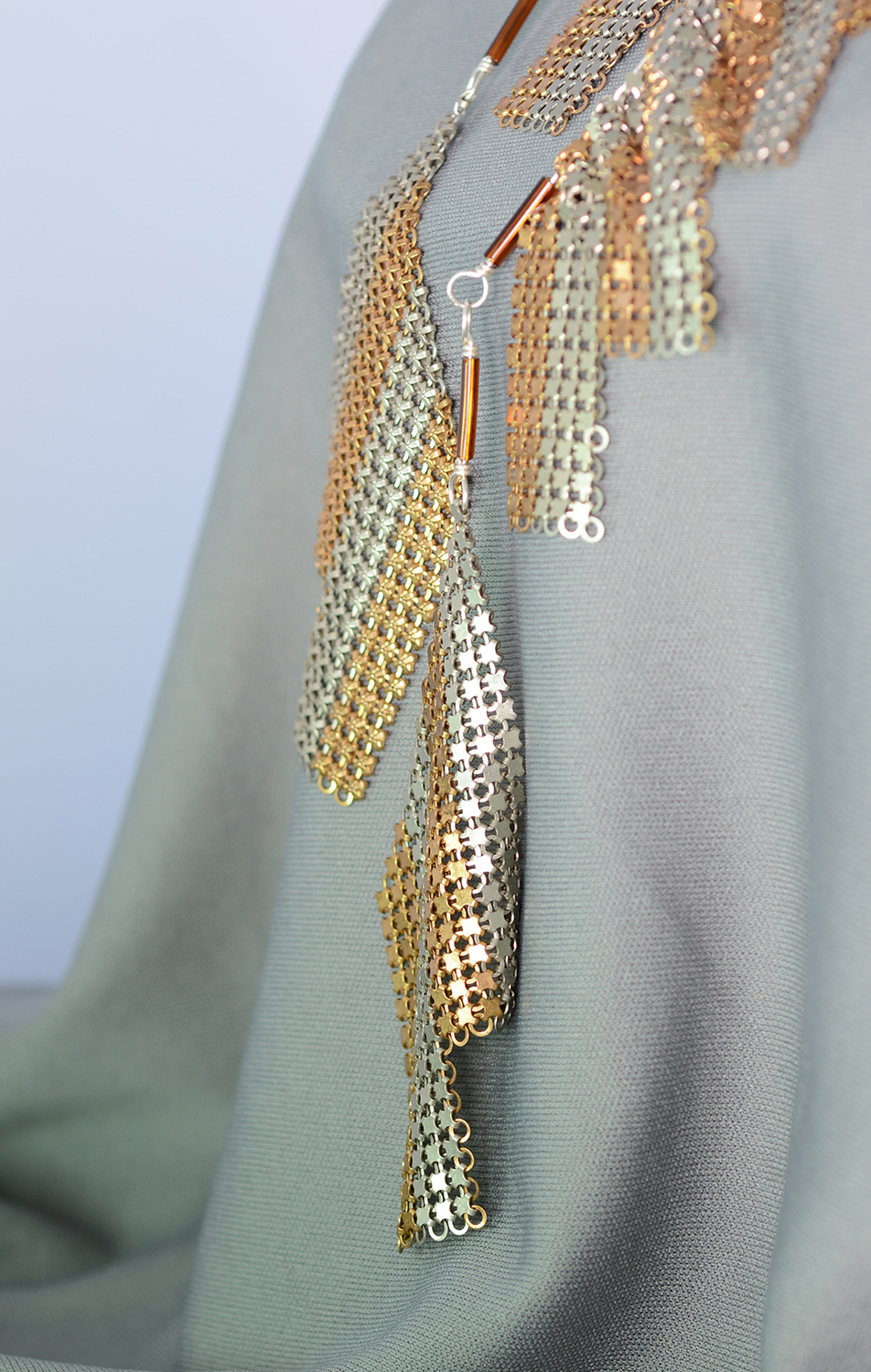 Deco Drape Trim
There's no front or back to these pieces. They're different textures and both present beautifully.
Chainmail and Mesh
Chainmail is not a new technique in contemporary jewelry but this necklace began life as a napkin ring. Wire cutters, and presenting them on the bias, changed the original object completely and used the material in a very new way. It's hard not to fiddle with them when they're worn. They're like fabric but with weight and texture.
Chainmail and Mesh
I often pair the larger chainmail necklace with a smaller one I made by repurposing a vintage Bedouin bracelet.
Steel Nails
These are hardened steel flooring nails; they may be antique. I'm not sure. But I love the form and oily blackness and how they feel in your hand. They're not quite true or perfectly square or identical to each other. I designed the collar and attachment and love the way they hang together in a heavy waterfall. This is a great layering piece with heavier winter clothes and smaller, more delicate gold jewelry.
Mother of Pearl Pen Tops
We barely use pens at all anymore; so much is digital and we tap away with our thumbs more often than we write. But there was a time when pen nibs were constructed of precious steel and slipped onto pen tops carved of ivory, wood, bone, or mother of pearl. I found these beauties in a satin box and created the sterling silver collars one by one, making sure each one was snug and the fit seamless. Hardly anyone knows what they are so, be prepared to answer questions whenever you wear this necklace.
Circle and Slash Rings
Another necklace that began life as a set of napkin rings.
Brass Shield
Believe it or not, this brass shield began life as a bud vase. It was designed to sit on a surface, the well holding a bit of water, with a single bud resting inside on a slant– just about lying flat on the table surface. I think it's far better with the holes drilled at the top and hanging as a necklace.
Brass Shield
This has wonderful texture and warmth and I love all the variations on a circle in one piece.