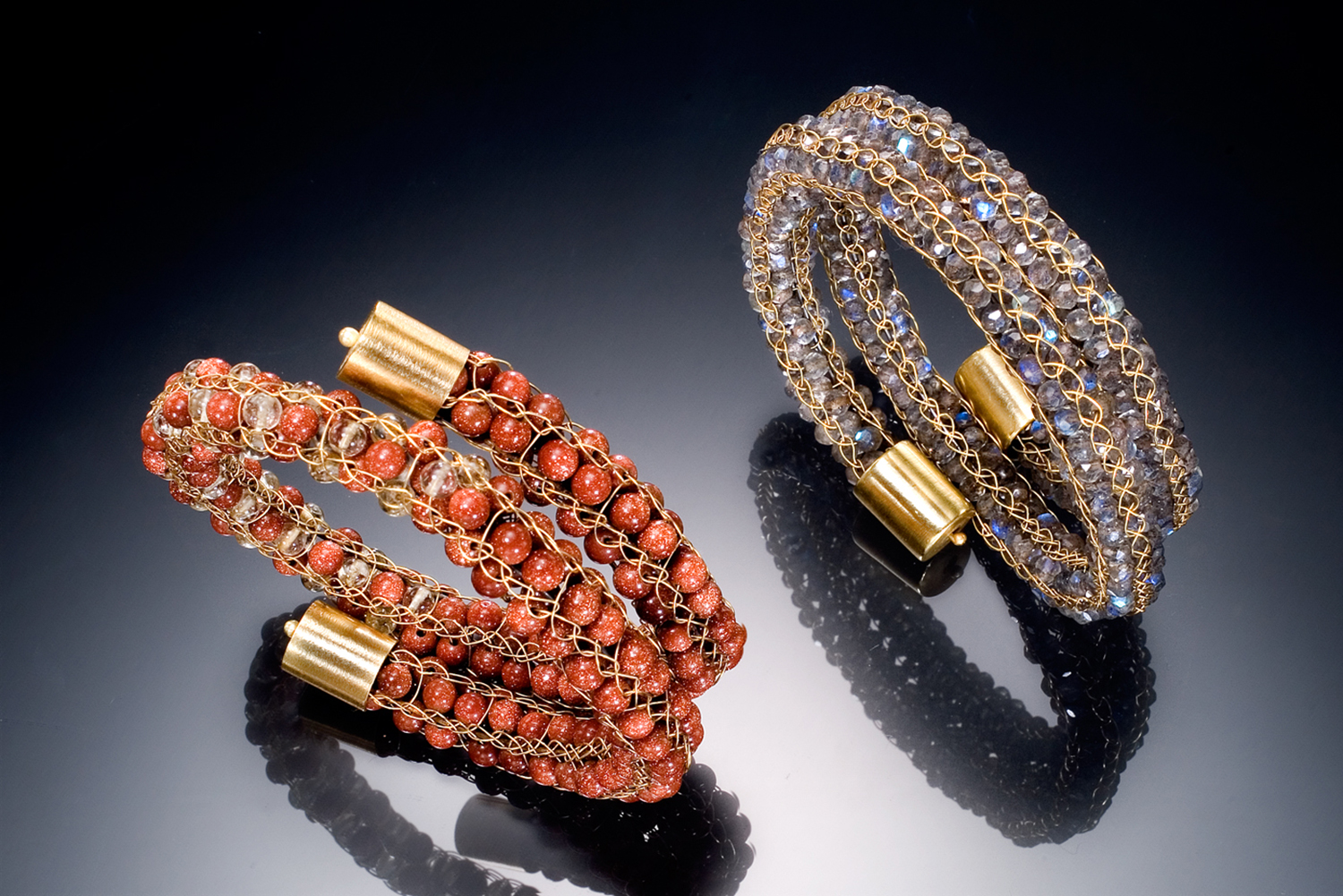 About Studio Jewelry
My Studio Jewelry is the real thing. High karat gold (usually 18K, sometimes 22K); carefully chosen semi-precious stones; almost always handmade clasps, closures, and end-caps; personalized with adjustable lengths; made to be mixed, matched, worn, and loved.
Gold is a very precious metal; its price fluctuates daily. When I began working with gold it cost about 325.00 an ounce. Today it's over 1,200.00 an ounce. I stopped when it hit 1,600.00. But its beauty, longevity, glow, and luster can justify the investment.
Collaborations are welcome. Samples can be provided. Prices upon request.
Gold Onyx Wrap
These are four separate necklaces. Three single strands of individually hand knotted 18K gold wire and beads, and one of onyx and gold wire. Onyx is not considered a very valuable stone but I like it because of the deep black color and how shiny smooth it is. The tassel wraps in front and I was worried it would be difficult to wear, that it would frequently come undone. I was wrong. It hangs beautifully and has never slipped. It's a staple and I reach for it at least once a week.
All the Stones
This necklace began life as a Fortunoff bracelet. Bracelets are hard to put on and I hardly ever wear them. But the stones are beautiful and set in backless bezels so the light pours through them and they're unabashedly 'look at me' shiny.
I took the bracelet apart and created a wrap necklace on black silk cord. Now it's my very best dress-up necklace.
A Cluster of Citrine
This necklace slips over my head and I adjust its length with a knot at the back of my neck. The stones are faceted citrine and there are enough here to be a small handful. It's casual because no stone is central or immobile but luxurious because there are so many of them. I love the color and having so many to touch at once.
All the Wovens
Imagine opening a box of buried treasure. A box filled with coils and lengths of 18K gold rope, every semi-precious stone with the gold Rapunzel-like thread running through it.
These necklaces drape, knot, twist and turn. They don't have a front or back and you can't quite figure out how they're made. Every stitch is hand-formed; every stitch is fragile alone but sturdy and strong as part of the final piece.
Think of spools and yarn and a childhood craft. Keep the tool and technique, just change the yarn to gold thread and string on hundreds of semi-precious stones and pearls before you begin.
The end-caps, clasps, and closures are entirely handmade. It's impossible to wear these without someone asking you what it is, where you got it, and if they can touch it.
Woven, 18K, Aquamarine
Like knitting, one simple stitch can yield many patterns and styles. This aquamarine necklace is loose and fluid with a pattern of some stitches capturing a stone and others skipping it. The stones are faceted so they reflect the light in countless directions. It can be worn long, knotted once or twice, or doubled.
Woven, 18K, Peridot
Peridot is a beautiful stone. It comes in a range of greens, light to dark and its tone can almost be thought of as neutral. It mixes beautifully with gold.
Woven, 18K, Garnet
Some people consider garnet a common stone. It's widely found and has many uses. It's a mineral, an abrasive, a filter, and used in sidewalk cement. It's January's birthstone and the finest ones are used in jewelry. I love garnet because red and black have been front and center in my wardrobe for years. And red stones go with red lipstick.
Woven, 18K, Garnet, Pearl
Woven, 18K, Pearl
Long and lustrous, this necklace has weight and life. Pearls should be handled gently and kept away from acid and abrasives. Store them in a soft, safe place. This is a statement necklace; it's long and can be doubled or knotted. Wear it alone or with only another small strand close to your neck. It's great on a plain, flat background of color … a cashmere sweater is perfect. It's also spectacular doubled and worn close to your collarbone. It makes a perfect necklace for a bride. This is not your grandmother's pearl necklace.
Woven, 18K, Peridot, Pearl
This necklace is composed of two separate and identical strands, twisted and held in place with 18K oval end-caps.
Woven, 18K, Garnet, White Tourmaline
This necklace holds together beautifully and lays confidently without tipping forward. I've become fascinated with knots. They're as old as time and beautiful in their symbolism, function, and historic and literary references.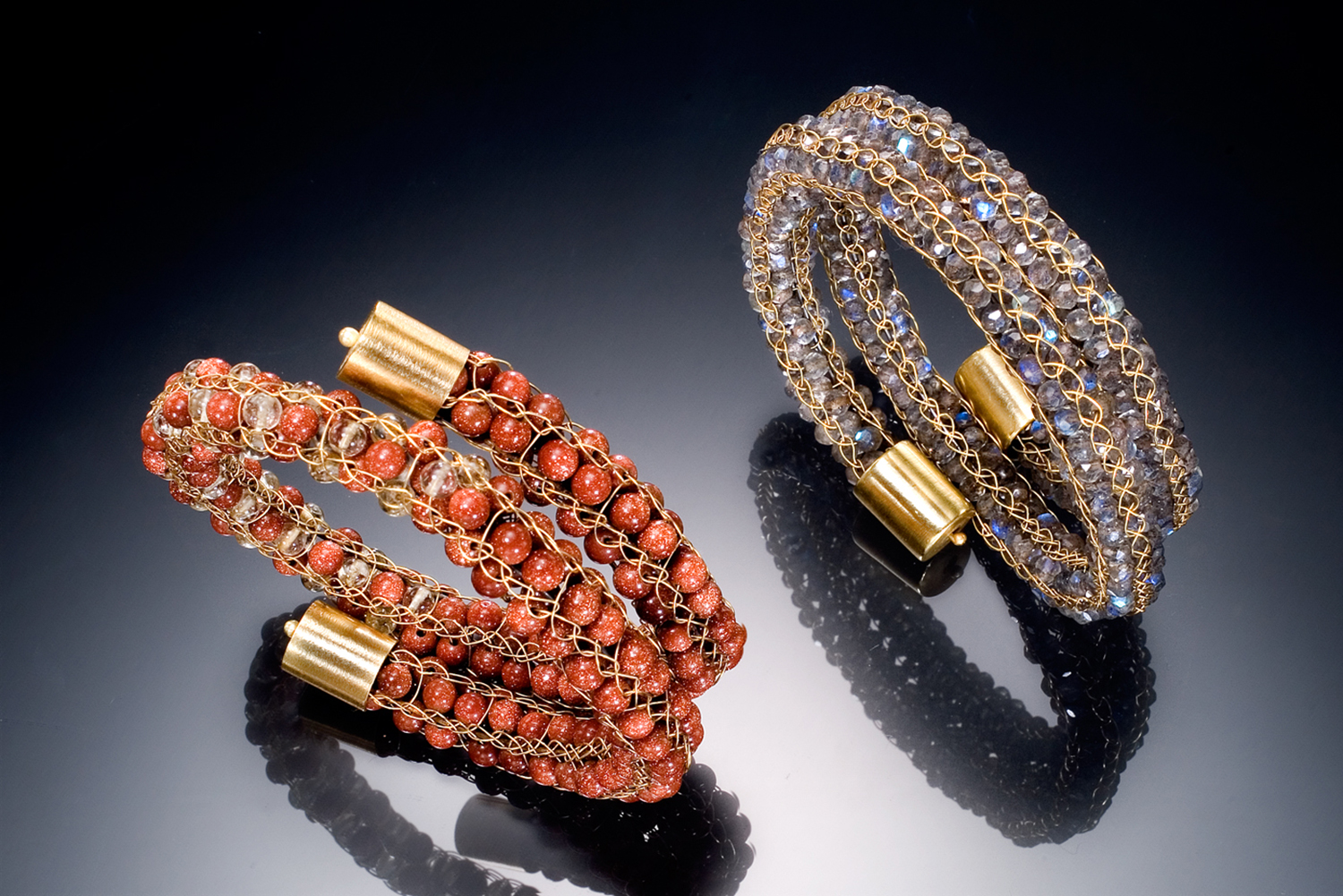 Woven Woven Bracelets. 18K, Carnelian. 18K, White Topaz
These bracelets have a tension steel wire running through them. The wire isn't visible but it's very strong and springy, making these bracelets easy to put on and take off.
Woven, Fine Silver, Swarovski Crystal
Fine silver is different than sterling silver. It is alloyed with less copper than sterling; it's purer. So, it's also more pliable and easier to weave. The tassels in front are constructed with sterling silver tubing.
Knots and Beads. 18K gold.
This series of necklaces are all hand stitched and feature semi-precious stones or 18K beads or chain, linked together with twisted pieces of gold wire.
This one is all gold with the closure in front, the clasp becoming an integral part of the design. The length of this necklace is very flexible and all the larger, circular rings can be used as the place to hook and close. The hook can even grab two or three rings at the same time allowing this necklace to be many different lengths.
Chain and Beads. 18K Gold.
Tiny beads and the finest gauge wire link 18K chain at one inch intervals. Very delicate and can be wrapped two or three times.
Knots and Beads. 18K Gold.
Entirely hand knotted, bead-by-bead. This is a basic necklace that can be worn almost daily, with every other style necklace I make. It's a 'foundation' piece. These days I mix it with silver, vintage, ethnic, and costume jewelry.
Knots and Sapphires. 18K Gold.
Hand knotted with fine gauge 18K wire and sapphires. Wrap twice or wear long with the tassel hanging just above your waist.
Knots and Onyx. 18K Gold.
Knots and Tourmaline. 18K Gold.
Larger stones and slightly stronger gold wire. Wrap twice or wear long. The weight of the stones on the tassel keep it secure and closed. Sometimes I wrap both the strands, keeping the the look chunkier and more substantial.
Knots and Tourmaline. 18K Gold.
Double strand with a chain at the clasp to slightly adjust the length.
Skip and Stones. 18K Gold, Carnelian.
These stones are evenly spaced, the same number on each strand, but then each strand is hand placed to guide where all the little lengths fall.
The gold wire the beads are strung on barely shows so there's an interesting contrast between the fluid chain and stiffer strung stones.
Skip and Stones. 18K Gold, Spinel.
Skip and Stones. 18K Gold, Fresh Water Pearls
This is one of my favorites. It's one long length that I double and triple wrap myself. There's something about the permanent little curve of each pearl cluster that becomes graphic and jaunty.
Drops. 18K Gold and Tourmaline
This is the style that started my work with gold. A client showed me a necklace from a magazine back in the 80's and asked if I could make her one. I taught myself the knot and began learning about gemstones. I still love this style.
Drops. 18K Gold and Tourmaline
It wasn't long before I began making my own closures and incorporating them into the design of a piece. Gold is too beautiful to hide under your hair and I love adding another component of design into a traditional treatment of jewelry.
Drops. 18K White Gold and Tourmaline.
Drops. 18K White Gold and Tourmaline
If you like the look of silver but want the quality of gold, white gold is the option. It's a harder metal to work with but the results are worth it. This has a cold, sharp quality that I love. And I happily mix it with traditional warm, yellow gold.